Buy Daily Wear Gold Plated Bangles Collections at Best Prices Online | Jewelsmart.in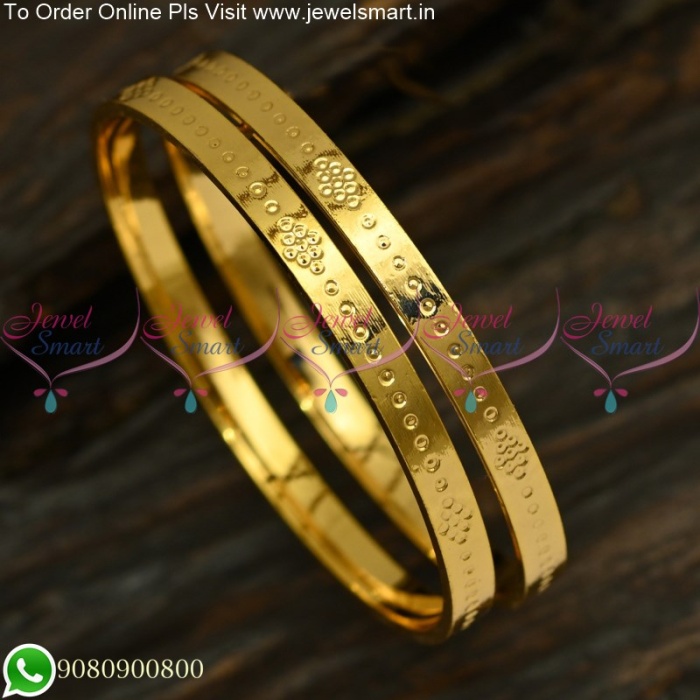 Looking to buy daily wear gold plated bangles online at best prices, then you have reached the right place to browse and place orders online from the best designs in imitation jewellery, our daily wear gold plated bangles are capable of holding the colour of the bangles for long period since the base compound used in plating is customized with more gold content than those are available normally in market and with other online sellers.
What is the difference between daily wear gold plated bangles available in this page with other bangles shown?
Other bangles do not have the lacquer coating as the lacquer coating might flatten the design. So, for the bangles with more number of stones and intricate design, lacquer coating is not recommended. Those are meant only for party wear.
Our daily wear gold plated bangles are protected using a lacquer coating which prevents the wear and tear of the bangles for a particular period. The drawback in using this lacquer coating is, since this is kind of lamination over the design, if the bangles have intricate designs, then it makes no sense in spoiling the design with lamination since it will be lost and design will look flat. Most of the daily wear gold plated bangles have mild design or self design which will not make a big difference even after lacquer coating. The advantage is being it can protect the colour life of these daily wear gold plated bangles for longer period compared to those other intricately designed normal plated bangles. But incase of party wear, then people might prefer to use only those gold look intricately designed bangles and those might be suitable for party wear if maintained well inside plastic covers or boxes while unused.
We capture photographs of these daily wear gold plated bangles using a professional DSLR and only actual pictures are shown without any sort of editing.